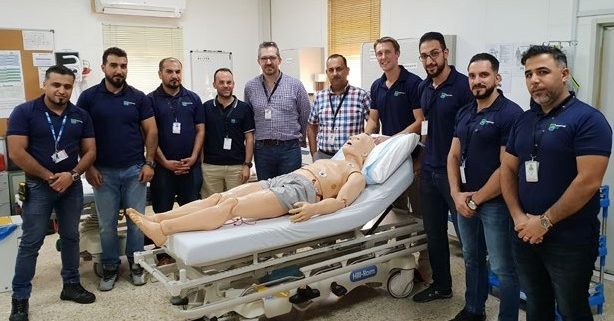 Fourteen members from the ROO Medical Team have completed training to attain the Advanced Cardiac Life Support (ACLS) qualification, set by the American Heart Association.
Members of the team can now perform emergency cardiac care at Rumaila, certified to a standard internationally recognized by medical practitioners the world over. As well as the ACLS certificate, the trainees also attained a certificate in Basic Life Support for Healthcare Providers, as part of the training. The medical team includes doctors, medical technicians, emergency medical dispatchers and clinic managers.
The course means that everyone working at Rumaila now has access to the highest standard of care across every field clinic. In the event of a person having cardiac arrest, the medical team can now recognize and treat serious heart conditions.
The trainees studied for several months in advance of the three-day course, which was taught  by registered Advanced Cardiac Instructor and ROO Medical Operations Lead Nick Dillon.
"The team saw over 1,000 patients in July and responded to 27 ambulance calls throughout the month, so the main challenge was finding time for studying whilst maintaining normal clinical duties," said Nick.
"The training will now help our medical team to be able to identify and treat life-threatening cardiac issues with a professional approach to resuscitation, so that we can provide early treatment and prevent more serious outcomes. My congratulations go to each member of the team for their achievement."
https://medicorp-global.com/wp-content/uploads/2019/07/MediCorp_Medical-training_Iraq.jpg
365
614
medicorp
https://medicorp-global.com/wp-content/uploads/2019/06/Branding_RBG-2.png
medicorp
2018-07-15 08:06:58
2019-07-15 08:17:29
World-class training to keep hearts beating